Window Hinge Repair and Replacement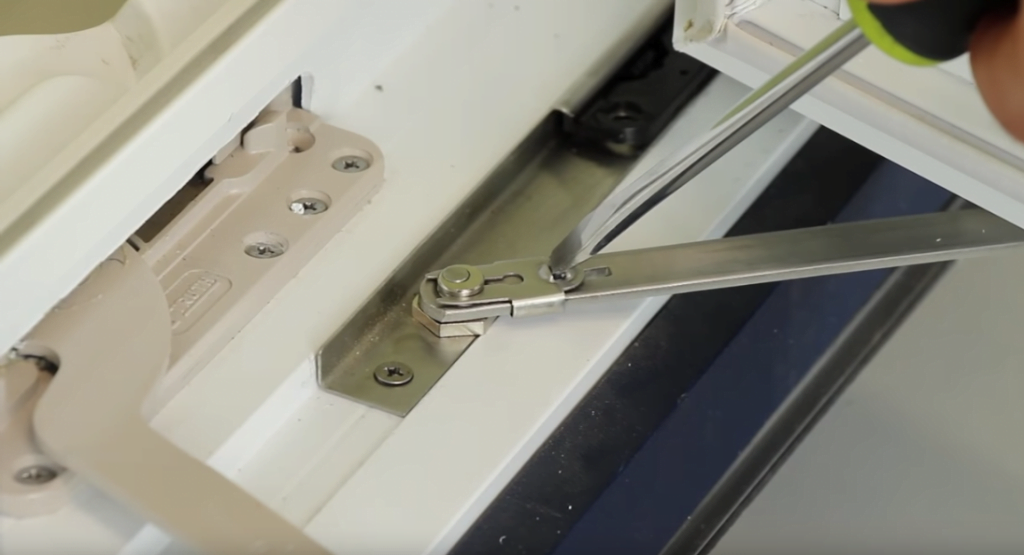 What are window hinges?
The window hinge is a device used to facilitate the opening and closing of casement windows and awning windows, whether vinyl or wood. They come in two sections one of which is fastened to the frame and the other which is fastened to the window panel.  The hinge is typically made of metal for both sections and has a plastic slider on the panel section that moves back and forth along the metal plane of the frame section.  There is also a metal arm that locks the sections together at the correct angle using a metal clip. The hinge never needs to be lubricated as the contact points are between metal and plastic only. Eventually, the plastic slide does wear out, but this takes many years.  The hinges are supplemented by a crank mechanism used to open and close the window panel.  You can learn more about window cranks here.
What causes window hinges to break or stop working?
Window hinges do not require lubrication and when they break it's typically because of natural wear and tear over time. As the plastic slider within the hinge is softer than the metal plane it slides along, it eventually wears down and has the potential to dislocate from the panel section.  Another cause of hinge damage is due to high wind.  If a window panel is in the open position during high winds, this can cause the hinge sections to fail and break under the pressure. Most hinge damage is caused by either wind damage or wear and tear due to age.
What do I do when my window hinges fail or breaks?
When your window hinges fail, the first step is to temporarily secure the window to the frame and lock it in place until a technician can replace the hinges with new ones. Repair of the actual hinges is often not an option as the plastic slider inside usually breaks or has its structure damaged. In these cases, you should simply replace the old broken hinges with new hinges. It is recommended to change both hinges at the same time as the functioning hinge is usually approaching its end of life as well. New window hinges are not difficult to install and can be mounted using the existing screw holes and screws in the window frame and panel sections. If the window frame is made of wood and rotted, excessively damaged, or broken, then an entire window replacement may be required to fix the issue, although this is rare and not a common measure.
GTA Glass and Door is a family-owned business serving the Greater Toronto Area. We are fully licensed, and insured, and provide various window-related services including window crank repair, hinge repair, window installation, storm window installation, screen repair, and more!
Don't let a broken window crank or hinges ruin your day. Window crank replacement, hinge replacement, and more…at your door!
Can I just ignore a broken hinge?
A broken window hinge is not just about convenience. Proper crank functionality is also about the security of your home. Ideal security entails that all egress to your home is secured. If you need new window hinges, our window hinge replacement will make your window swing open and close like it's new again. A broken window hinge can also lead to damage to the crank as uneven hinges can cause damage to the crank mechanism. New hinges can save the life of your windows and crank mechanism which is often overlooked.
Who manufactures window hinges?
Truth is the leader in casement window hardware. Most homes use truth hardware for their windows as they are the largest manufacturer in North America. For additional information about Truth hardware, you can visit their site and store here.